This post is one of several I will do to flesh out some details for the earth science course I designed for JBug, based on Bill Bryson's book,  A Really Short History of Nearly Everything.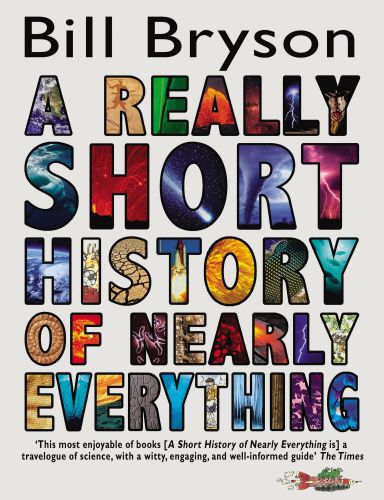 Original post on the whole course here:
Totally Rockin' Earth Science Course for JBug.
Planning charts can be downloaded here:
Earth Science Planning Chart PDF version
Earth Science Planning Chart Word version
Details for "weeks" 1-4 (which will actually be probably weeks 1-8, taking 2 weeks to do each "week"–clear as mud?)
The first two sections are largely introductory in nature, so we will take this time to set up our rock tumbler, choosing which rocks we want to tumble, going over how it works, fine tuning, etc. We have this rock tumbler (Lortone 45C) which has worked well for us in the past, but it has been a long time since we used it, so we will need to re-familiarize ourselves with it. This would also be a good time to decorate a notebook if you are starting a new one. JBug has one half-full from last year, so she will just be adding to that. It's a simple composition book with the top half blank and the bottom half lined. I like that style as I find it most versatile, but feel free to use any style suits you and your kids.  Here is a picture of JBug's after she decorated it last year: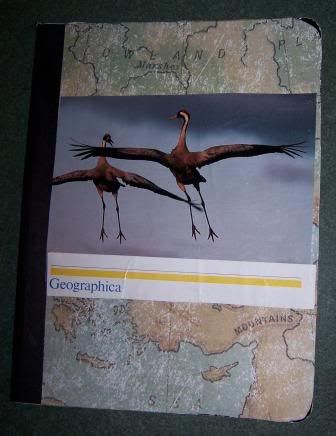 The next few sections of the book are mostly about the big bang, space, the solar system, and stars.
Notebooking opportunities for this section are: What is a Universe?  What is a solar system? Parts of a rocket, moon phases, seasons, the big bang,  what is a galaxy? star life cycle, and scientist bios for Newton, Halley, Wren, Bob Evans, Gamow, Penzias and Wilson, among others. Do whichever ones strike your child's fancy. When we do notebooking, JBug will often sketch a picture or diagram on the top half of the page, then write a few sentences of explanation below. Sometimes it may just be something we've printed up and glued in. Either way, we keep it simple so the focus is on the science, not the notebook.
This is also when we will begin our model rocket building, which will hopefully carry over several weeks, completed a little each day as we continue with the rest of the work/readings/notebooking. There are tons of rocket kits out there you can order online or get at shops like Hobby Lobby (I think) and so you should pick and choose based on price, complexity, etc that will suit the age/ level of experience of your children. Some can be put together in an hour. Others will need considerably more time investment. Go for one that will challenge your child but not frustrate them. Take your time and really learn the science behind the design, what all of the parts do during launch and how they work together to make a successful launch and recovery.
Launching is the fun part–try to make a party of it. Pick a nice, windless day, a big sunny field, pack a picnic, and launch away! Be sure to warn young children ahead of time that they very well may not recover their rocket if the wind takes it somewhere inaccessible, so don't get too attached.
The next project will be to build a model solar system. I got one of those cheap styrofoam kits you paint and assemble, but really anything will do–sculpey, paper mache, whatever. Just be sure to emphasize that the scale for any of these models is necessarily WAY off. Watching the Bill Nye episode on the solar system should clear that up pretty well.
Page 25 of the book has a small section on Isaac Newton, so I am going to grab that opportunity to do a  few force/motion activities, just for fun.We will explore Newton's 3 Laws of Motion using simple objects (perhaps with activities from here). Then we will do some fun things like build stick bombs and catapults. Just because.
Other things we can do during this segment: watch the Bill Nye episodes on space, the moon, comets and meteors, etc, look at Voyager and Hubble images, and use the dates on p24 of the book to calculate the period for Halley's comet and when it will next return.
Amongst all of this discussion of the universe and its beginnings, we will also be sure to read the Genesis account of creation (as well as other creation stories), and read from the Catechism of the Catholic Church and writings of the Popes to understand how, as Catholics, we can find truth in both the Big Bang and the Bible. You, of course, will want to discuss this in accordance with your own belief system.
So, I hope that helps to flesh out the first few sections of the course. I will be back soon with details on the next sections.